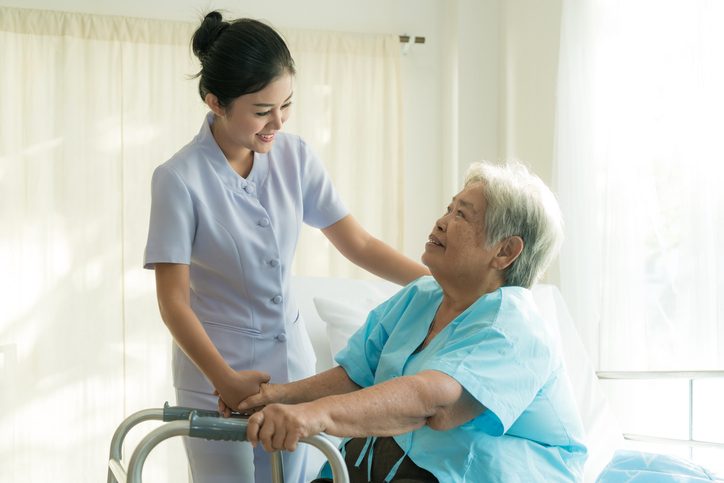 A recent study done by Ministry of Health (MOH) revealed that 1 in 2 healthy Singapore residents aged 65 today risk becoming severely disabled in their lifetime.

The study also predicted a sharp hike in the number of Singapore residents aged 65 & above requiring assistance for at least 3 Activities of Daily Living (ADLs) will increase from 29,000 to 69,000 by 2030.

If you browse through Hardware Zone or The Online Citizen (TOC), you'll see skeptics denouncing these statistics & claiming that they're lies put out by the government to further their agenda. Whether what they're saying is true, frankly we have no idea.

But the one thing that we do know for sure is that as you age, the more susceptible you become to diseases & accidents. If that happens, you can be sure that your life-savings will slowly deplete itself & make its way into the deep pockets of whichever healthcare & long-term care provider that you've opted for.

To help you get a better idea of what the costs would be like, we've summed up the average cost of long-term care in Singapore, & the average bill for medical treatments in public hospitals today:
Cost of Long-Term Care
In general, the costs of nursing homes in Singapore range from $1,200 to $3,500 per month, depending on the type of care required & whether the individual requires the services at the facilities or at home.
| | |
| --- | --- |
| Type of Care | Average Cost |
| Temporary Day Care | S$100 – S$150/day |
| Care Services at Home | S$80 – S$220/day |
| Intensive Inpatient Care | S$7,000/month |
Source: Value Champion
Chor right?

Now, imagine being straddled with the ever-rising cost of medical treatment, in addition to the costs of long-term care, should you come to need it (touch wood).
Average Hospital Bill in a Public Hospital (Medical Specialist)
| | | | |
| --- | --- | --- | --- |
| Ward Class | Average Cost/ Day | Total Average Bill | Top 5% Patients Paid More Than |
| A (1 bed) | S$1,142 – S$1,412 | S$2,210 – S$7,459 | S$11,485 – S$24,873 |
| B (3-4 beds) | S$686 – S$1,094 | S$2,830 – S$7,876 | S$10,867 – S$28,041 |
| B2 (6-10 beds) | S$314 – S$439 | S$1,178 – S$3,380 | S$3,434 – S$10,389 |
| C (open ward) | S$205 – S$319 | S$1,012 – S$2,558 | S$2,973 – S$8,466 |
Average Hospital Bill in a Public Hospital (Surgical Specialist)
| | | | |
| --- | --- | --- | --- |
| Ward Class | Average Cost/ Day | Average Total Bill | Top 5% Patients Paid More Than |
| A (1 bed) | S$1,372 – S$2,788 | S$5,044 – S$10,541 | S$14,923 – S$30,292 |
| B1 (3-4 beds) | S$1,268 – S$2,509 | S$4,629 – S$9,922 | S$15,846 – S$26,707 |
| B2 (6-10 beds) | S$529 – S$760 | S$1,824 – S$3,393 | S$5,845 – S$9,819 |
| C (open ward) | S$330 – S$523 | S$1,638 – S$3,775 | S$5,222 – S$12,684 |
Source: Seedly
Note: These numbers were derived from the average cost of hospitals in Singapore. Hospitals that specialise in niche areas were removed (i.e. KK Hospital)
If you're thinking, "Eh, I can afford this la", you might want to think again. A report by Willis Tower Watsons predicted that Singapore's gross medical inflation rate would rise to 9.1% in 2019.
According to their 2018 Global Medical Trends Survey Report, the trend of reducing medical cost that has been seen in the past couple years appears to have ran its course & you can only expect these numbers to surge beyond expectations in the near future.
What Do These Statistics Mean For Me?
Suppose it's 2028 & you find yourself in the hospital for a procedure. Assuming that the inflation rate remains at 9.1% per year across the next 10 years, what would be a S$3,000 procedure today would cost you S$7,167.52.
Most working adults would have trouble footing this bill, so it's safe to assume that as a retiree, you would definitely require some financial assistance in order to make ends meet.
So this is where ElderShield comes in.
What is ElderShield?
ElderShield is an insurance scheme that aims to relieve the financial burden of those who suffer from Extreme Disability in the form of monthly payments of up to S$400. When Singaporeans reach the age of 40, one of the 3 insurers appointed by the Ministry of Health (MOH) will send them an ElderShield welcome package, congratulating for reaching the middle age, & a note that they've automatically been enrolled into the scheme.
The premiums for ElderShield are fully payable through MediSave & is probably the cheapest medical insurance scheme available to Singaporeans.
Extreme Disability?

When we think of the term "Extreme Disability", what comes to mind for most of us is perhaps an individual suffering from a severe condition, unable to do more than lie prone on the hospital bed. But that's wrong.
You can have all your limbs & not be suffering from any debilitating diseases but still be classified as someone who is suffering from extreme disability in the eyes of ElderShield. So long as you are unable to perform 3 out of 6 of the following ADLs, you qualify as someone who suffers from extreme disability: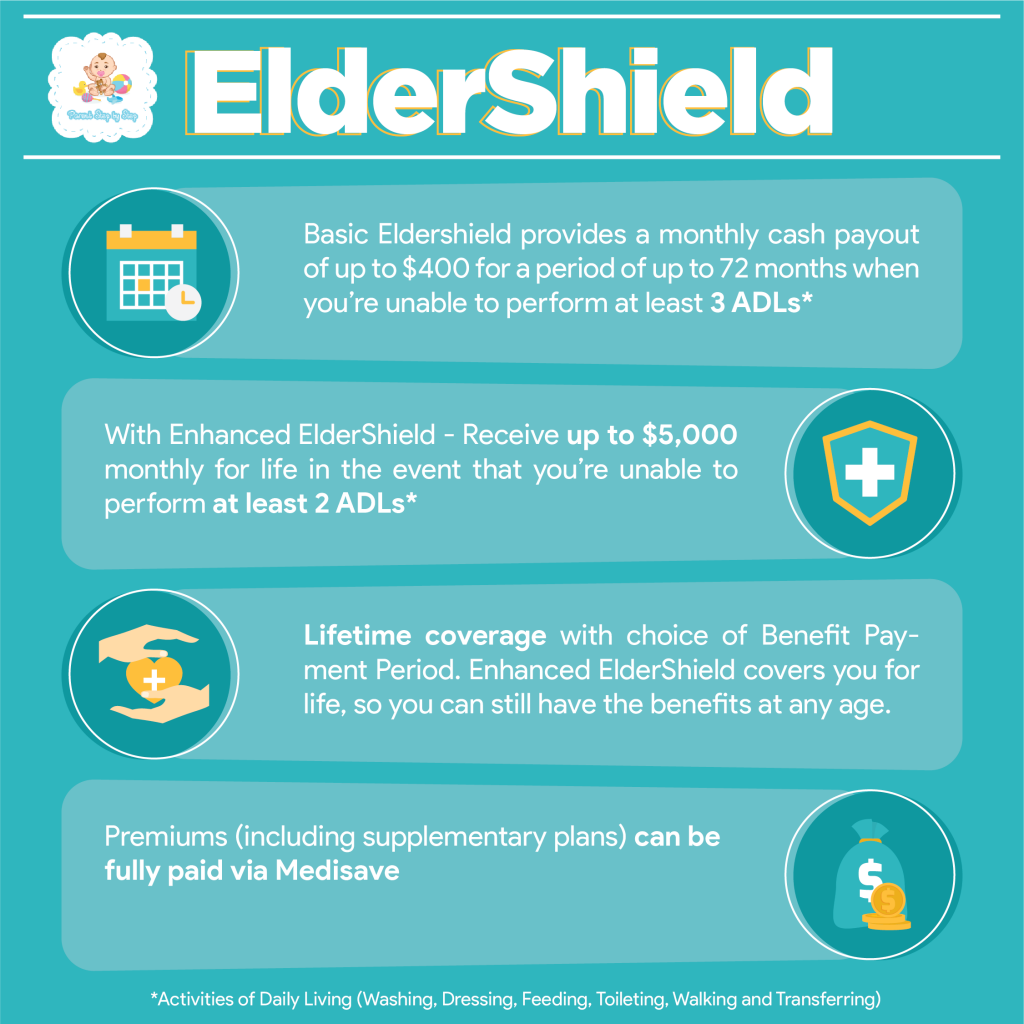 Washing

The ability to wash in the bath or shower (including getting into & out of the bath or shower or wash by other means)

Dressing

The ability to put on, take off, secure, & unfasten all garments &, as appropriate, any braces, artificial limbs or other surgical or medical appliances

Feeding

The ability to feed oneself food after is has been prepared & made available

Toileting

The ability to use the lavatory or manage bowel & bladder function through the use of protective undergarments or surgical appliances if appropriate

Walking or Moving Around

The ability to move indoors from room to room on level surfaces

Transferring

The ability to move from bed to an upright chair or wheelchair, & vice versa
But let's be frank, a payout of only S$400 a month is definitely not enough. A token sum like that barely covers 1/3 of the monthly fees for the cheapest nursing home in Singapore. Don't forget to take into account any medical bills you might have, your day-to-day living costs, & the fact that if you're having issues completing any of the ADLs by yourself, you most likely won't have the ability to work or generate an active income.
Why upgrade your ElderShield now?
Instead of a measly S$400 a month, why not dictate your own terms in exchange for only slightly higher premiums? Each of the 3 official ElderShield providers have their own set of comprehensive plans to supplement the basic ElderShield coverage. These ElderShield supplements not only guarantee you a higher monthly payout, but also includes additional benefits!

Furthermore, the younger you join, the cheaper your monthly premiums since unlike the many insurance policies out there, these premiums don't increase as you age!
Take Action Today
Nobody plans to BE severely disabled in their old age, but fact is that as we age, our bodies weaken & there is a high chance that we might someday be unable to do the things that we take for granted now.

Take action to prepare for what may come in your old age.
Bonus Treats!
For a limited time only, a complimentary S$20 NTUC Voucher will be gifted to you upon meeting-up with our representatives. Please rest assured that there are no obligations & regardless of whether or not you choose to upgrade your plan, the voucher will still be gifted to you.
You can always just leave us your details through the form below: