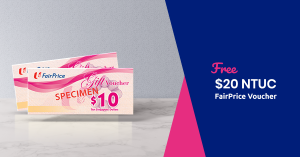 Enhanced ElderShield 
By paying a little more for your premiums, you gain the opportunity to increase your monthly payouts to up to S$5,000 a month instead of just a measly S$400! Each of the 3 official ElderShield providers have their own set of comprehensive plans to supplement the basic ElderShield coverage. These ElderShield supplements not only guarantee you a higher monthly payout, but also includes additional benefits! Everything is via MediSave with no cash involved! 
We understand that ElderShield is a personal commitment that requires careful consideration so if you're keen to explore your options, let's do a face-to-face meetup with no-obligations instead!
Complimentary S$20 NTUC FairPrice vouchers and S$50 SimplyWills discount voucher to readers who take the time to meet with our representatives.
Your Authorisation
You confirm that the information you have provided is your personal data. By providing this information, You understand that an authorised insurance partner or representative from ParentStepbyStep may follow up via phone/sms and / or email. All promotions are subject to eligibility and availability. We reserve the right to refuse / reject based on our sole discretion.
Terms & Conditions
By submitting this form, you have read and agree to our privacy policy as well as terms and conditions. The purpose of this ParentStepbyStep campaign is to educate individuals in Singapore the benefits of enhancing their ElderShield coverage. The complimentary S$20 NTUC FairPrice vouchers and S$50 SimplyWills discount vouchers are subject to terms and conditions spelt out below. The gift can only be hand delivered in person upon signing of our acknowledgment form. The acknowledgement form will be used only for record keeping purposes. Every eligible individual is entitled to one gift only. We reserve the right to change the gifts without prior notice. Eligibility criteria for the complimentary S$20 NTUC FairPrice vouchers: – Citizen or – Singaporean PR aged 39 and above.